We did not have our usual "Crafting with Oona" session yesterday because Allie had to get two teeth pulled. (I would have prefered crafting as I HATE going to the dentist and just being in the office gives me the willies)

Anyway, this is the next craft that I plan to do with the girls: Retro Ornaments made out of recycled cardboard tubes (we seem to have an inordinate amount of toilet paper rolls in our house) and pipe cleaners.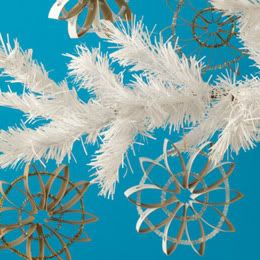 Family Fun had this craft in their latest issue--There are so many things to do to make these unique and beautiful. Family Fun suggests painting the tubes before hand as an alternative to the natural look.

I am thinking of several different variations...

dipping the pieces in glitter

painting the tubes and just putting glitter on the tops and bottoms--glass beads would also be pretty (I like to use up supplies from past crafting projects when possible)

I'll post pictures when we finish. Send me pictures if you do this craft with your little ones at home! I'd love to see the results.