Today was another hot one in Baltimore. The temperature climbed to 96 degrees and we headed to the pool for an afternoon of fun.

My life of leisure at the pool has officially ended. Last year and for the first part of this summer, the twins were content to swim in the pool that is only 4 feet at its deepest point. I have been totally comfortable with their swimming abilities (or lack thereof) in this pool. I could sit and read, work or whatever while they played around. However, for the past two weeks, they have only wanted to swim in the big pool with the diving board. The big pool is 10 feet deep and I'm not real comfortable with not watching them all the time.

Ammy is becoming quite the fish...considering that at the beginning of the summer she refused to put her head under water, she has made great strides.
Please note that she is also not holding her nose under water anymore!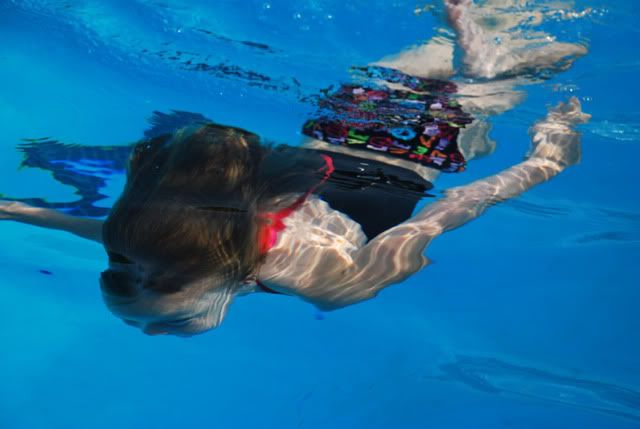 Kellen is a stronger swimmer than Ammy. He loves to swim freestyle (or his version of it) and manages to splash everyone and everything around him.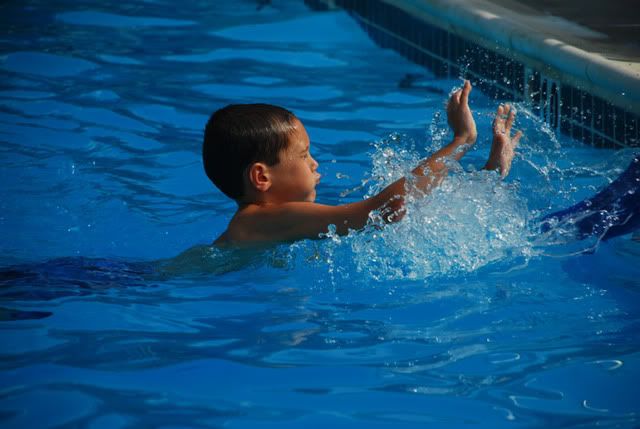 His goal was to land on top of the board in the water.
He had no problems getting the kickboard under his feet and he managed to stay on top of it
until he hit the water.


At which point the kickboard would fly out and Kellen would hit the water every time.
Ammy was content to blow water out of the pool noodle over and over again.
Judging from the look on her face, Ammy apparently had enough of my picture taking.