I met Andie when we were in the 7th grade. We became best friends and did everything together. We went to the beach and even bought matching shirts and sweatshirt jackets. Andie is responsible for teaching me how to french braid--she had long, long hair and she always wore it in a french braid down the back of her head. When she spent the night at my house, it was my job to braid her hair.

She threw a surprise party for me on my 16th birthday. She got an upper classman (that I had a major crush on) to ask me out. We were supposedly double dating and when we got to her house to pick her up, there were a bunch of people there. He of course left me at the party and I was crushed! Andie is the one that I drove around Reston with on the day I got my license...60 miles in one afternoon!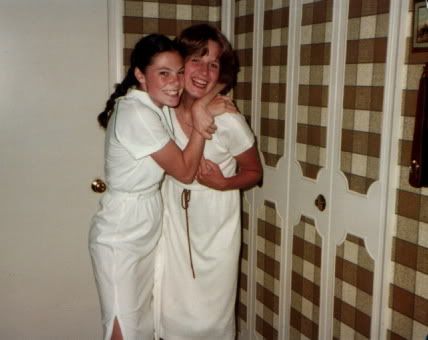 We went our separate ways after our sophomore year and then we reconnected during the summer after my sophomore year in college. She helped me through a really difficult time and was there to talk and eat ice cream with. Then we didn't see each other again until our 10 year reunion. We were both married with children..I was living in Baltimore and she was living in Connecticut. She moved back to the area in 1999 and in 2003 we started planning our 20th reunion. We both love to plan a good party and we ended up talking almost every day during the year that we planned the reunion.


We've kept in touch over the past five years and this summer, we, along with our committee, planned our 25th reunion. She has kept me sane through the entire process and I value her friendship...no other friend I have has known me for as long as she has...31 years to be exact.
Yikes, that is a LONG time!
I still feel like that girl in the blue sweatshirt from 1978--just wish I was as thin!

Thanks for a great weekend. Love you girl and I look forward to many more years of memories.