Tristan came home from soccer practice tonight and declared that he needed a hair cut (never mind that I've been trying to get him to cut his hair for weeks) My husband is the one who usually wields the clippers, but he is out of town so Tristan decided to give himself a buzz cut. Hair cutting is not one of the skills I possess so I was beginning to get a little nervous. He had a ton of hair and the clippers seemed a bit dull.
Then the clippers died.
"Mom, we've got a problem!"

In my supportive way, I took pictures in between hysterical fits of laughter.

Apparently, he was cutting the same section of hair over and over again.

We got in the car and started heading over to Sports Clips to get someone to fix his hair. Since it was 8:30 p.m., I decided to call over and make sure they were still open. They weren't! At this point Tristan was freaking out and I was laughing so hard I couldn't breathe. I called a family friend and thankfully, he owns a pair of clippers (and a nice hair cutting cape too).

Jim "The Barber" Mathias to the rescue.
The divot is slowly disappearing...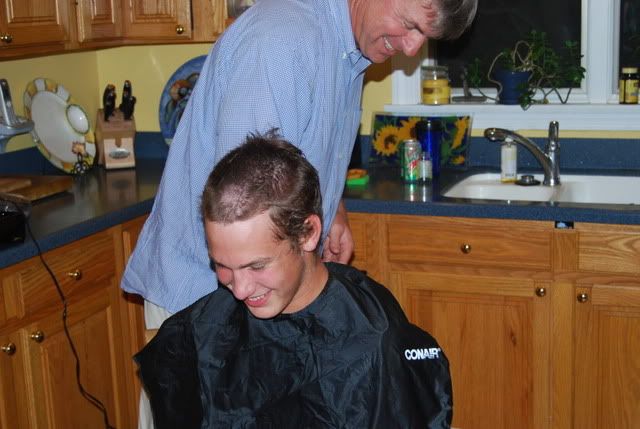 Much better!

I don't think Tristan will be cutting his own hair again.