I made the BEST dinner tonight...Tyler Florence's Pan-Roasted Sirloin with Salad of Arugula, Sweet Peppers and Olives.

Salad:
2 red bell peppers
Extra-virgin olive oil
Sea salt and freshly ground pepper
1 cup mixed whole black and green olives such as Kalamata and Picholine
1 bunch baby arugula, trimmed
Juice of 1/2 lemon
4 ounces blue cheese, crumbled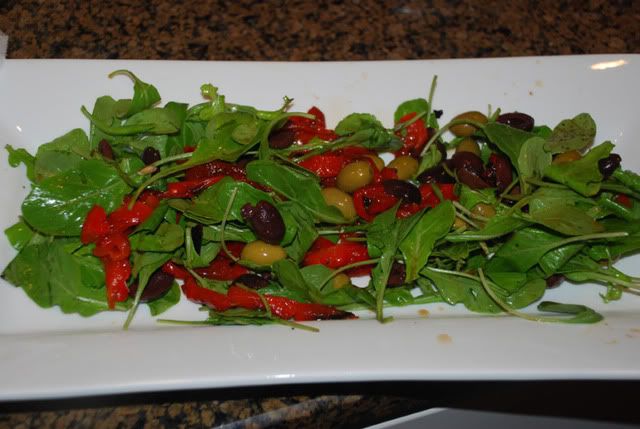 Steak:
2 New York strip steaks, 8 to 10 ounces each, about 1 1/2 inches thick
Sea salt and freshly ground pepper
Extra-virgin olive oil
4 fresh thyme sprigs
1/2 cup dry red wine, such as Cabernet Sauvignon
1/2 teaspoon sugar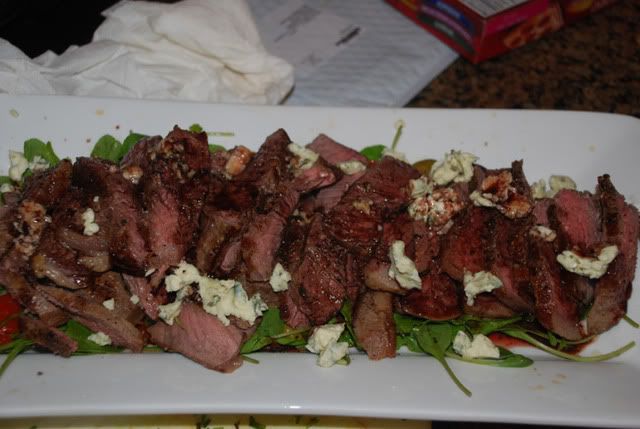 Start by preparing the peppers. Preheat the broiler. Pull out their cores, then halve the peppers lengthwise, and remove the ribs and seeds. Toss the peppers with a little olive oil, salt and pepper. Place them on a cookie sheet, skin side up, and broil for 10 minutes to loosen the skins.

Switch the oven from broil to bake and set the temperature to 350 degrees. Season both sides of the steaks with sea salt and a generous amount of coarsely ground pepper, about 1 Tablespoon of pepper per steak. Place a cast-iron (or regular ovenproof) skillet over medium-high heat. Coat the bottom of the pan with a 20-count drizzle of olive oil and get it smoking hot. Add the steaks and sear for 4 minutes on each side. Throw in the thyme, then transfer the skillet to the hot oven and roast the steaks fro 5 minutes for a nice medium-rare (120 to 125 degrees internal temperature).

While that's going on, pull the loosened skins off the peppers; cut the peppers into nice fat strips and toss them with the olives. Set aside. Remove the steaks to a cutting board and let them rest for a few minutes before slicing.

Make a quick vinaigrette using the flavors left in the bottom of the skillet. Pour out some of the beef fat (I poured out half) and return the pan to the stove. Add the red wine and boil over medium heat while scraping with a wooden spoon to pull the flavors up. Let the wine reduce to 1/4 cup; this will intensify the flavor. Add the sugar and a 1-count of olive oil to balance it out.

Put it all together. Cut the steaks on an angle into slices. Gently toss the peppers and olives with the arugula. Drizzle the salad with a little more olive oil, a squeeze of lemon juice, salt and pepper. Toss lightly again and place on a platter. Arrange the steak slices on top of the salad and garnish with the crumbled blue cheese; then drizzle the pan vinaigrette over the steak salad and serve.

* I used four steaks and doubled the sauce at the end to serve my family of 7.

Survey says: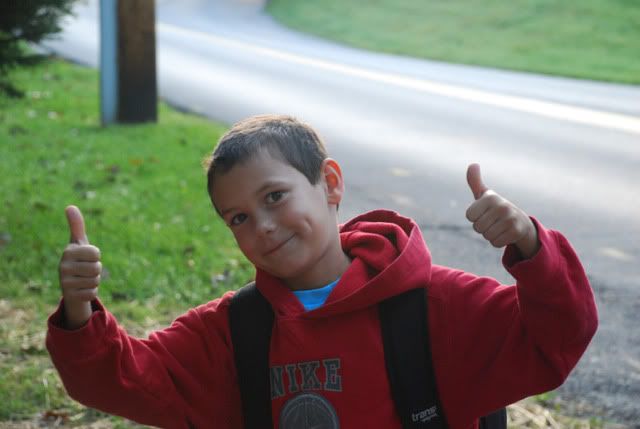 Good enough for company!