The other night, I bought stuff to make s'mores. I was thinking that we would build a fire outside in the fire pit, but by the time we got finished with dinner, I just didn't have the energy. Never fear, the big kids came to the rescue with a solution. Nothing like using the stove to roast your marshmallows.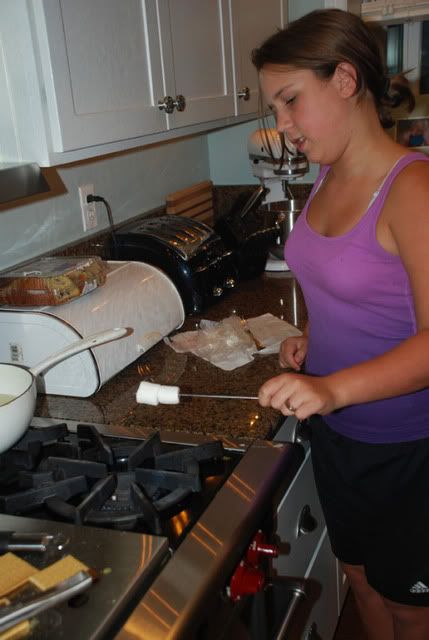 The marshmallows catch on fire just like those over a camp fire.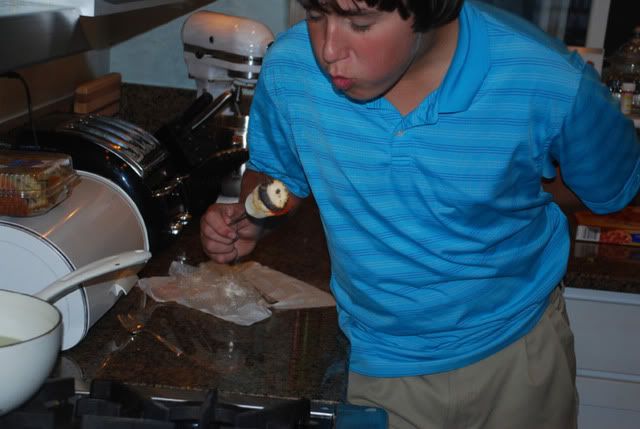 I like burned marshmallows.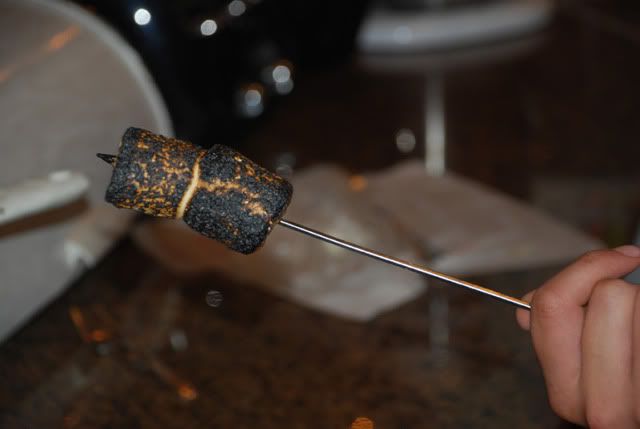 Apparently, so does Ammy.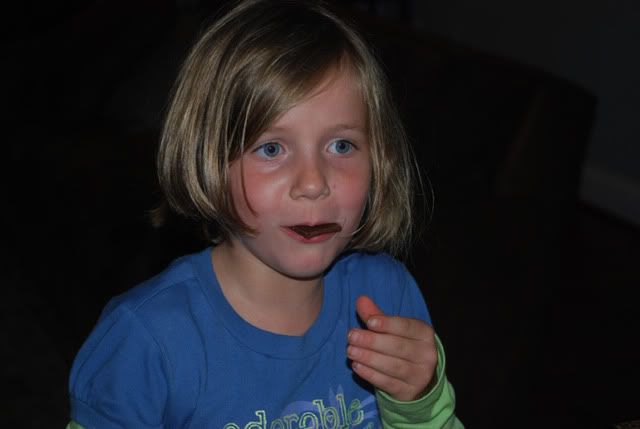 S'mores are really good if you use Barefoot Contessa's recipe for french chocolate bark for the chocolate.
Makes 18 to 20 pieces

1 cup whole salted, roasted cashews
6 to 7 ounces very good semisweet chocolate, finely chopped
6 to 7 ounces very good bittersweet chocolate, finely chopped
1/4 cup dried crystallized ginger, 1/2-inch diced
1/2 cup cherries
1/2 cup dried apricots, 1/2-inch diced
1/4 cup golden raisins

Preheat the oven to 350 degrees. Using a pencil draw a 9 x 10-inch rectangle on a piece of parchment paper placed on a sheet pan, then turn the parchment paper over.

Spread the cashews in one layer on another sheet pan and bake for 8 minutes. Set aside to cool.

Place the semisweet chocolate and half the bittersweet chocolate in a glass bowl and microwave on high power for 20 to 30 seconds. Stir with a rubber spatula. Continue to heat and stir in 30 second increments until the chocolate is just melted. Immediately add the remaining bittersweet chocolate and allow it to sit at room temperature, stirring often, until it's completely smooth. Stir vigorously until the chocolate is smooth and slightly cooled; stirring makes it glossier.

Pour the melted chocolate onto the parchment paper and spread it lightly into the drawn rectangle. Sprinkle the top evenly in the following order: first the ginger, then the cooled whole cashews, the cherries, apricots and raisins. Set aside for 1 to 2 hours until firm. Cut bark in 18 to 20 pieces and serve at room temperature.